The Classy Commode
---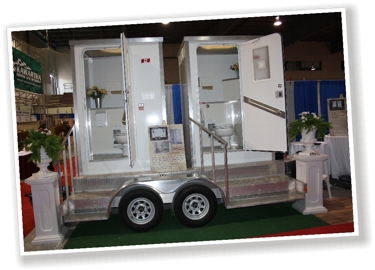 How we got started.
I attended a wedding at a rural property in late September and the setting could not have been nicer. A beautiful farmhouse with the leaves turning vibrant colours, a large tent, decorated beautifully, tables and chairs for 200 guests, a delicious five-course catered meal. When the meal was over I asked our server where I could find the washrooms. As she squeezed her nose she directed me to the plastic porta-potties set quite a distance from the tent. Only the wedding party was allowed to use the washrooms in the house. I felt there must be something better for outdoor events.
After researching, I found several company's in the United States and one company southwest of Toronto who does just that. Upscale portable washrooms with flush toilets, sinks, running water, heat, lights and mirrors. Within a few days I found myself the proud owner of my first Canadian built portable washroom trailer. Since then we have continued to expand our fleet as more and more people discover our mobile washroom alternative for their events.
---
When you could use the Classy Commode:
•

Weddings & Anniversaries


•

Sporting Events


•

Celebrations of Life

•

Corporate Events


•

Award Ceremonies


•

Washroom Renovations

•

Charity Events


•

TV & Film Productions


•

Reunions
---
What are customers saying?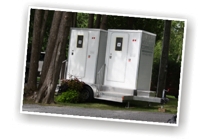 "I just wanted to drop you a line to thank you again for the fabulous washroom facilities. They were definitely a topic of conversation among our guests and they absolutely loved them! You know that when a guest comes out with a smile and makes a beeline for us to tell us how nice they are, that we exceeded anyone's expectations!"
Thanks so very much for making our special day that much better!!!!

Sherry Jopling - Bride
The Classy Commode has been providing portable washrooms with all the comforts of home since 2007.